A series of interviews with a variety of wordsmiths, happily random ambling conversations about absolutely anything, sometimes even writing. 'An accidental conjunction of minds, may it never happen again….'
'The Word' broadcast 28.10.14. Wandering into the mists of time this week on The Word we explore the mystical landscape of story and rhyme. Terrie Howey, aka Red Phoenix, has 450 stories living in her memory and appears to be in charge of them all! Richard Frost, one-time Bard of Stony Stratford has 450 paragraphs waiting in line for delivery but has to write down the shopping list! We talk tall tales, Iron Age hill forts, Anglo-Saxon riddles, commissioned poetry and the joys of sharing a mic!
'The Word' broadcast 22.10.14 Throw away the alarm clock! Meet the man who sleepeth as little as possible in case he misses an opportunity to create something, even if it is the sound of string and vellum. Andy Powell and Peter Ball talk science fiction, poetic fiction, and take walks along the shores of unsailed seas. Would there be space travel without Arthur C.Clarke and Isaac Asimov? Would there be sea breezes without John Masefield? We have no idea but had fun pretending to.
'The Word' broadcast 14.10.14. This week we visit the world of Drama with Rosemary Hill and Georgia Tillery. Actors, Directors and Producers. Perpetrators of the spoken word complete with actions. We talk Japanese Romeo and Juliet, intricate fight scenes, and the life and times of Harold Pinter.
'The Word' broadcast 07.10.14 There's a Doctor of Words in my radio! Sally Fox discusses the bending of truth that is creative non-fiction and the alternate reality of Academic writing. Punctured paragraphs are re-inflated and silly words are given our blessings!
'The Word' broadcast 30.09.14 hunts for the location of the tomb of Gengis Khan. All from the safety of the studio and not a metal detector in sight! Judi Moore chats about her books, 'Little Mouse' and 'Is Death really Necessary?' Readings from Judi's poetry, 'Autumn came today' taken from 'Upstart!' published in 1996, John Hegley, 'The Lammas Hireling' by Ian Duhig, 'Gun Lore' from Bill Greenwell's collection 'Impossible Objects'.
'The Word' broadcast 23.09.14 has been chatting to a man who unearths mysterious lives stored and recorded in the British Library…'Dead Men's Teeth', a collection of brilliant and descriptive short stories has been written by Jamie Rhodes. Not only that but we have a multiplicity of short stories from Chekhov, Pratchett and other luminaries in the literary world, and if you were a neolithic storyteller would you begin with 'Are you sitting comfortably?
'The Word' broadcast 02.09.14. Verse, thoughts and rhyme about that most un-poetic of events, war. A wander into the war-torn fields of education as we discuss the ravages placed upon an already creaking system by an un-informed and probably barking mad ideologue. This weeks guest is Dick Skellington, academic and word-grazer, chatting with Peter Ball.
'The Word' broadcast 29.07.14. On 'The Word', this week's guest is Susan Popoola, author and poet. We discuss 'soft' social sciences and her two books, one of which is about Milton Keynes. To a peripatetic person like myself, I'm always impressed by the enthusiasm that many people have for their home town. Susan finds a beautiful lost poem of her own and we have the usual random readings including Tupac Shakur and Maya Angelou.
'The Word' broadcast 22.07.14. On 'The Word' this week! The joy of Gormenghast, (is that possible)? How Old Shakey saved the excluded, and an entire library in two shopping bags (that's not possible)! I'm in conversation with Caz Tricks this week. A woman on a mission to spread the word as thick as honey on beautifully buttered toast! Random readings as usual, and extracts from 'A Steppe in Time' a satirical spy thriller by your host, Peter Ball, available as an e-book!
'The Word' broadcast 08.07.14. I wondered lonely as a Word, and all the flowers passed me by. With my head in the sky, I was eye to eye with a bird.
For cunning wordplay and random snippets listen to Peter Ball and his guest, supreme custodian of sentences, Stephen Hobbs!
'The Word' broadcast 01.07.14. Ah! The delicate dancing and nimble steps of words in rhyme. The light fandango of verse and the wistful waltz of stanzas in children's stories. This weeks guest is Ellie Etchells, children's author in conversation with Peter Ball.
'The Word' broadcast 24.06.14. As predictable as ever…'The Word' turns up on the last bus out of town. Clinging tightly to the seat in front and poetising in true party fashion, no verses are safe from your host Peter Ball and his guest Kevin O'Regan
'The Word' broadcast 17.06.14. Shy words hiding in forgotten corners come out smiling when they hear that 'The Word' is out and about. This weeks' guest is Paul Eccentric, story-teller and Anti-Poet. We discuss the ins and outs of giant publishers, the down and outs of real bookshops, and the ups and downs of being a performer. Also readings from Paul Eccentric, A.A.Milne, Ogden Nash, Adrian Mitchell, Thomas Moore, Brian Patten, Michael Rosen, E.J.Thribb (cont'd p.94)and Peter Ball, the host.
'The Word' broadcast 03.06.14. Ever wondered where all the best words have gone? They are queuing up to get on 'The Word' and be aired and exercised! This weeks' interview with Ken Daniels roamed through various realms of reality, pondering the arrival of 'newspeak' (in the form of txts and mssgs), the invention of new words, and the laughable length of some of our favourite ones.
Poems from a veritable host of wordsmiths including Roald Dahl, Patrick Barrington, Wendy Cope, Joyce Grenfell, Bob Dylan, and of course your host Peter Ball and his guest, Ken Daniels.
'The Word' broadcast 27.05.14. Do editors really use a red pen? What's the world record for the number of chapters excised from a book in one go? Find out in this weeks programme! An interview with Belinda Hunt of Mardibooks. We discuss publishing, and she reads extracts of stories by some of her writers. 'Visiting Sins' by Jane Diamond, drama/action novel. 'Rabbit' by James Troughton. A short story in the 'Toast' collection. 'In the Eye of the Beholder', by Rachel Catto, rights of passage, drama novella.' Windows and Doors' – poetry- by Belinda Hunt Work in progress …'Spider' by Belinda Hunt …thriller. 'Lobster Pot'…poetry collection by Belinda Hunt. Poems by Jemila Abulhawa, Dylan Thomas, Lewis Carroll, Peter Ball.
'The Word' broadcast 20.05.14. Words basking in the sun and debating the delights of deck chairs. Some of course are gentler souls and prefer to pretty themselves under a parasol! We have an interview with Sue Benwell, discussing her new book 'Goldigger' and reading her poems. Writings from Anna Akhmatova, Linda Pastan, Francesc Parcerisas, Helena Mallett all with your host Peter Ball. Oh, I nearly forgot, a pun or two snuck past the microphone, and the end of the show features a giant drill…
'The Word' broadcast 13.05.14. Peter Ball presents The Word. This week, an interview with Michele Welborn who weaves with words and knits a fine yarn. Reading her lyrics instead of singing them is a challenge she has more than equalled! Poems from a 13th Century mystic known as Rumi, Roger McGough & Anna Kamienska. A tale of a remarkable turtle by Stephen Dunn. Possible philosophy, the smallest Dragon ever & other poems from the host, Peter Ball. Last but not least, the peripatetic paragraph ducks into a verse near you!
'The Word' broadcast 06.05.14. Interview with Margaret Morgan-Owen, discussing her book,'Are there sardines in the tree?' A poetic journey describing the trials, tribulations and occasional humour of her husbands' dementia. Also poetry from John Hegley, James McGarry, W.B. Yeats. 'Flash Fraction' by Helena Mallet and some Haiku!
'The Word' broadcast 29.04.14. Interview with Linda Watkins  A pantheon of Poems, featured writers today include Billy Collins / Dame Edith Sitwell / Alex Daydream / Walter de la Mare / Arthur Rimbaud / Christine Rossetti / Mewlana Jalaludin Rumi / Alice Walker / Roger McGough / Amber Agha / Mick Moss / Clayton Moore and the famous pirouetting paragraph!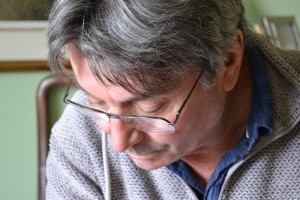 'The Word' broadcast 22.04.14. Interview with Alan Rondeau and a multitude of words from Joe Jackson, Elvis Costello, Roald Dahl, Shakespeare, Lewis Carroll, Marianne Moore, Felix Pollak, Louis Jenkins.
here is a link to 'The Word' broadcast 15.04.14. Includes writings from 6th BC to the present day. From Lao Tzu & Leonard Cohen to William Blake & Bob Dylan. New writers also, like Peter Ball, Sally Fox & Mick Moss.